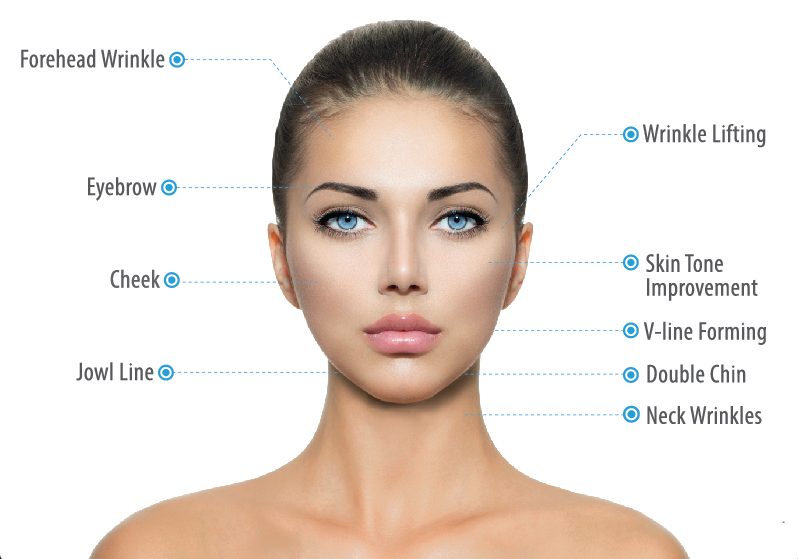 What is HIFU therapy?
Posted on
HIFU therapy: the easiest, non-surgical way to lift your face and neck
There are things that come with age—some that are nice, like being able to appreciate a good wine; and other things that take some adjusting to, like our skin not being as perky as it was when we were much younger. That's not to say that ageing gracefully can't be a thing, but if loose skin around your face and neck is making you feel self-conscious, we've got a solution for you that doesn't involve a confronting surgical procedure.
Introducing HIFU therapy.
HIFU stands for High-Intensity Focused Ultrasound and is a type of ultherapy (ultrasound therapy) that focuses on harnessing breakthrough ultrasound technology to lift and tighten problem areas without invasive surgical procedures.
We use an ultrasound device called Ultraformer 3 to perform HIFU therapy. The Ulfit works by distributing focused ultrasound energy deep beneath the skin to stimulate the optimal temperature for collagen to regenerate. This activates neocollagenesis, a natural process that produces new collagen.
In simple terms, the Ulfit utilises your body's regenerative ability to refresh your skin—all without going under the knife or enduring a long post-operation recovery.
The easiest way to rejuvenate your look without a complete overhaul is to lift and tighten your face and neck with HIFU—these are the areas of your body people usually lay eyes on first, so you want to make the best impression and do so as confidently as possible!
How exactly does the Ulfit work?
There are three facial cartridges involved in your Ulfit HIFU therapy.
The first two cartridges (1.5mm and 3.0mm) focus on using ultrasound to regenerate the dermis layer, which is the thick second layer of your skin that contains elastic tissue and is responsible for your skin's flexibility and strength.
The third cartridge (4.5mm) is used to contract and tighten the soft tissue of the superficial muscular aponeurotic system (SMAS)—this is a layer deep within your skin that gives your face structure and connects your facial muscles to the dermis, so it makes sense that the Ulfit works on tightening and lifting this area.
Why HIFU?
The main benefit of HIFU therapy over surgical procedures is that it involves much less pain and a shorter recovery time. A surgical face-lift can take up to a year for your face to return to fully normal function and will require you to take time off work for at least a couple of weeks. In contrast, HIFU patients can usually return to their normal activities immediately; the only exception would be patients who undergo more extensive treatments, and even then they would only need an hour of downtime.
Another important thing to note is that while the Ulfit system does not identically match the results of a surgical face-lift, it targets the same foundational layers of skin in a more natural, quicker and less invasive way. This means that you can avoid the heavy bruising and scarring that can occur as a result of surgical face-lifts.
Finally, a HIFU treatment usually takes about 60-90 minutes to complete and costs between $330 to $1800; this is opposed to a face-lift surgery, which can take up to 7 or 8 hours and costs thousands of dollars. Peche currently offers HIFU in Brisbane , HIFU Sunshine Coast & HIFU Gold Coast
So if you're after a solution to lift and tighten your face and neck area that saves you money, pain and time, HIFU could be the answer for you.
Does HIFU only work for my face and neck?
Ulfit can target a number of areas on your body—the system uses HIFU for skin and face lifting and macro-focused circular ultrasound (MFCA) for body slimming and contouring.
HIFU in particular can target specific areas on your face, such as your:
Forehead
Eyebrows
Wrinkles
Cheeks
Jowl line
Double chin
Neck
So whatever it is that you're wanting to lift on your face, HIFU can certainly focus on those areas and make you feel fresher than ever.
How do I get started?
Here at Pêche Medispa, we want to make sure you receive the best care possible. That's why we create a personalised treatment plan when you come in for a free consultation. If you are ready to enjoy a more youthful, lifted appearance thanks to HIFU treatment or would like to learn more about Ultraformer and Ulfit and our ultherapy services, we would love to see you!
Book your free consultation now and get ready to say hello to more confident, carefree days.