Dermapen Skin Needling
Radiant Skin With the Dermapen 4
Fresh, youthful, flawless skin glows from within. Over time, skin can lose that youthful radiance and become less efficient at protecting against and healing skin imperfections. The Dermapen 4 is designed to address these concerns by delivering minimally invasive Collagen Induction Therapy, which can benefit a wide range of skin concerns for both men and women.
Skin needling benefits include effectively reducing the appearance of:
Fine lines and wrinkles
Loss of elasticity
Under-eye circles
Acne and surgical scarring
Stretch marks
Pigmentation
Sun and age spots
Rosacea
Congested skin
Enlarged pores
Rough skin tone
What is Dermapen Skin Needling?
Skin needling is a process of pricking the skin's surface with tiny needles to stimulate collagen production. Collagen is a protein made naturally in the body and plays an essential role in the skin structure. Yet, natural collagen production diminishes with age. Skin Needling treatments stimulate the skin to produce more collagen and skin-plumping elastin, while inducing a wound-healing response, bringing back that more youthful appearance.
Dermapen 4: The World's #1 Micro-Needling System
Our Pêche Medispa goal is to always provide you with the best technology for the best outcomes at the lowest cost. We stand by the Dermapen 4 micro-needling system for all of our skin needling treatments and skin rejuvenation. A revolutionary 16 needle cartridge creates 104% more microchannels and generates almost 50% more holes than earlier devices—it delivers the most effective Collagen Induction Therapy available.
Offering The Lastest Treatments With Dermapen In Brisbane & the Gold Coast
Our team of professionals can help you get the most out of your skin treatments with our Dermapen in our medispa Brisbane or the Gold Coast.
Treat Skin Concerns with Dermapen Skin Needling
Skin needling treatments induce a wound healing response in the skin, making them effective at skin rejuvenation and reducing and dealing with a wide range of skin concerns on the face and body.
Fine Lines, Wrinkles & Skin Elasticity
Minimise those crow's feet, laugh lines, frown lines, drooping, and creased skin concerns with micro-needling. As fine lines and wrinkles are often caused by reduced collagen and elastin levels, skin needling treatments can initiate the skin to produce these plumping proteins at higher, more youthful rates again. The result is smoother, firmer, tauter skin for a more youthful appearance.
An additional benefit of skin needling is the improvement of microchannels that allow topical treatments to penetrate the skin more easily. Talk to us about combining topical skin treatments with skin needling during your free consultation.
Under-Eye Circles
Minimise that tired, malnourished look from dark under-eye circles with skin needling. The skin around the eyes is thin, and when excess blood pools in the area, it becomes easily visible, causing dark circles. Micro-needling promotes the skin to heal thicker, filling the circles under your eyes and reducing the dark appearance.
Elastin production is also improved, improving sagging skin, smoothing lines, further reducing that tired look so that you look more rested and fresh-faced.
Scarring and Stretch Marks
Scarring is caused by trauma to the skin. The sad fact is that many of us have scars from acne, injuries or surgeries. While they tell a part of our story, we don't need to keep them for life. Skin needling can speed up the scar healing process, helping you move forward without the physical reminders.
Skin needling can help minimise:
acne scars – reducing pigmentation and smoothing indentations
surgical scarring – the Dermapen 4 penetrates up to 3 mm to target deep layers of scarring from surgical cuts
burn contracture – damage from burnt skin contracting and splitting, causing a matrix of scarring that benefits from increased collagen and elastin production
stretch marks/striae – matrix scarring from skin separating that benefits from increased collagen and elastin production
Just like the skin needling benefits for other skin concerns, micro-needling induces a wound-healing process that promotes collagen and elastin production. These proteins can aid in smoothing the scar's surface and reducing discolouration more quickly.
Pigmentation, Sun and Age Spots
Skin pigmentation is not uncommon across men and women of all ages. The uneven production of melanin results in spots and marks on the skin and may have many causes, including sun exposure, some medications, and aging.
Skin needling benefits the appearance of:
Melasma
Hypopigmentation Vitiligo
Seborrheic dermatitis
Alopecia
Hyperpigmentation
Micro-needling is a safe, cost-effective and non-invasive way of reducing skin discolouration, talk to us about your options during your free initial consultation.
Rosacea
Rosacea is a common condition, affecting both men and women with redness and visible blood vessels in the face. Skin needling treatments can assist in the healing of rosacea. By inducing a wound healing process, blood flow in the area is improved, allowing the blood vessels to contract.
Skin needling also promotes collagen and elastin production, supporting more robust blood vessels with better elasticity and firmer, more toned skin, reducing veins' visibility.
Congested Skin & Enlarged Pores
Acne, blemishes and enlarged pores can be hard to cope with, and you may even think you're stuck with them forever. Yet, skin needling can be very effective at minimising these skin issues on the face, chest, back and other areas.
The Dermapen 4 stimulates collagen production, which plumps the skin and makes pores appear smaller. Smaller pores may be less prone to getting clogged with sebum and dirt, contributing to acne and blackheads. While one treatment offers benefits, regular skin needling sessions can positively impact overall skin tone, shrink pores' appearance, and reduce breakouts and acne pigmentation.
Home Micro-Needling or Professional Treatments?
There are many relatively in-expensive skin needling devices that you can use at home. The thing is that these devices are of inferior quality and may not be able to deliver micro-needling in a way that benefits you.
At Pêche, we use the top-range Dermapen 4 to administer micro-needling as it has superior quality needles. They're fine and can penetrate the skin at a precise 90° angle and penetrate up to 3 mm. All of our staff understand the correct penetration depth for different skin concerns to ensure you're getting a safe, effective treatment.
At-home devices can't deliver the same precision, and many have inferior needles that can cause damage. In particular, dermal rollers pose a risk of injuring the skin and causing scarring from scratching the skin at an angle.
Is Micro-Needling Good for Your Skin?
Skin needling stimulates collagen production, helping to reduce the appearance of wrinkles and fine lines, improve skin tone and refine pores, and minimise the appearance of scarring and stretch marks. This is considered positive for the skin, as good collagen is an indicator of youthfulness. The process also helps the skin to absorb skincare products for ongoing healthier skin.
Is Dermapen Use Safe?
Dermapen is considered safe for all skin types as it doesn't use any products or active ingredients that could cause reactions. The Dermapen works by making thousands of tiny needle pricks in the skin that stimulate the body's natural healing process and requires little to no downtime post-treatment. However, it is not recommended in conjunction with some acne medications or psoriasis, eczema, open wounds or active cystic acne, keloid scarring, or pregnancy. There are also some precautions relating to skin products during the days following your procedure to avoid possible reactions.
Is Skin Needling Good for Acne?
Dermapen is not ideal if you have active breakouts, although it is suitable once you have cleared your skin. Skin needling can help improve the appearance of acne scarring and stimulates the skin to heal more efficiently. In the same way that the Dermapen improves aging skin appearance, increased collagen and elastin production also help to reduce acne scars and residual redness.
How Painful Is Skin Needling with the Dermapen 4?
Dermapen treatments can cause some discomfort; however, they are widely tolerated. Although numbing cream is used for many other skin needling treatments, the vibrating effect of the Dermapen interrupts the pain receptors in the skin, which makes numbing cream unnecessary. The Dermapen isn't rolled or dragged across the skin like a dermal roller, so the microscopic punctures it makes are clean, direct, and cause little to no pain because there is no tearing of the epidermal layers.
How Many Dermapen Treatments Will I Need?
Everyone's skin is different, and the Dermapen treats a range of skin concerns, so the number of micro-needling treatments needed will vary from person to person. Most people will repeat Dermapen treatments every four to eight weeks until they reach their desired results.
For scar reduction, an average of three to six treatments is typical with desired results from around six treatments.
How Will My Skin Look Directly After My Treatment?
Directly after treatment, your skin may appear flushed, with slight redness and possible mild swelling much like a light sunburn. Depending on the intensity of the treatment, you may also experience light flaking. The majority of the redness and swelling should subside within twelve to twenty-four hours, with the average healing process being two to five days.
What Are the Side Effects?
While skin-needling treatments performed with the Dermapen 4 are well tolerated, there are some possible side effects. These include some slight swelling, temporary discomfort, and minor redness with possible bruising, dryness, and light flaking within the following days. You'll be able to continue everyday life during this time, with some special considerations for your skin.
How Do I Maximise Results?
We recommend combining Dermapen needling and HIFU skin tightening together in a treatment plan to maximise their effects. Skin needling and HIFU are usually performed separately to induce new collagen production. HIFU treatments work by generating heat, which stimulates new collagen production deep within the skin, while the Dermapen stimulates the top few millimetres. Together, they provide even better results and a full skin rejuvenation.
Another benefit of Dermapen treatments is that renewed skin can better absorb active ingredients from skincare products, so introducing quality topical products into your regime may boost results.
Are Dermapen Micro-Needling Treatments Worth it?
Dermapen offers a non-surgical, chemical-free and affordable way to stimulate the skin's natural healing process. The increased collagen produces healthier and younger-looking looking skin and may be an effective alternative and significantly cheaper than surgical procedures or injectables for many people. The effects of Dermapen treatments are two-fold, in that the Dermapen also prepares your skin to better absorb the active ingredients from your skincare products.
How Long Do Dermapen 4 Treatment Results Last?
Everyone's skin is different. Generally, you should see the Dermapen beginning to work as your skin starts to heal within four to seven days after your first treatment. In four to six weeks, you are ready for your next session where the positive results will then begin to accumulate as your skin's natural ability to produce collagen is further stimulated. For some conditions, such as treatments to reduce scarring, the results should be permanent. However, for other concerns, such as wrinkles and enlarged pores, the skin may return to its pre-treatment condition over time, and maintenance treatments are recommended.
Disclaimer:
Dermapen 4 is a state-of-the-art skin-needling device and can provide lasting results for many concerns, and our team are qualified and highly competent. However, results will vary depending on unique circumstances and treatment goals between people. In saying this, we can't guarantee results.
Dermapen Skin Needling - Before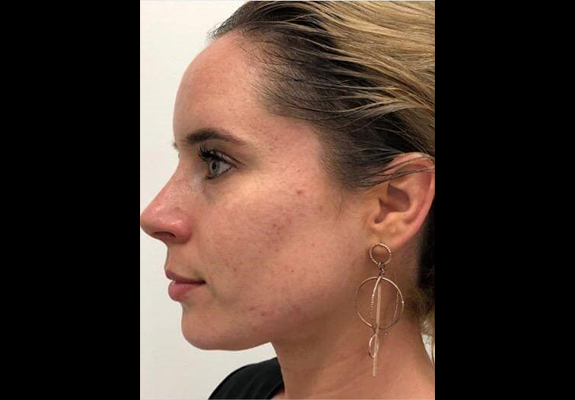 Dermapen Skin Needling - After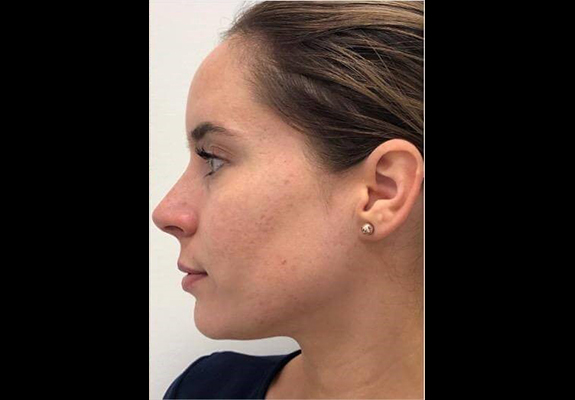 Dermapen Reviews
"Had such an amazing time getting my first Dermapen treatment! Skin feels amazing, and I'm so excited to do my next treatment and see the results as they develop!"
Matilda Rodgers
1/5
"About to attend my second dermapen treatment for acne scarring and pigmentation with Miranda. Results are already visable and the bags under my eyes improved too, bonus! Great service by qualified and knowledgable staff. Cant wait to see the results after the recommended treatments. Highly recommend this company. "
Kerri Clarke
2/5
"Derma pen is seriously not painful at all! 2nd session down and results are so GOOD! I'm happy with my skin thanks to pehe medispa I adore you guys!! I never thought it would be possible to be confident enough to go out with just cc cream. "
Tara Lexie
3/5
"I went for my second dermapen treatment with PM 2 days ago. there is no downtime and you can wear as much makeup as you want afterwards to cover any redness the little needles leave behind. Thank you PM so excited to continue and experience all the lasting results "
Freya Prout
4/5
"Thanks to the beautiful girls at Peche in Brisbane for looking after me. I cant wait to see the results. Ive heard such great things about this treatment and my skin needs good pick me up. "
Carly Mcdonagh 

5/5