About Us
Welcome To Pêche Medispa
Here at Pêche, we're offering a medispa service backed by more than a decade of cosmetic surgery knowledge and experience. Yet, you're never just a treatment to us, as we strive to deliver you a personalised experience every time.
Our highly experienced and qualified team of aestheticians and clinicians are lead by our founder, registered nurse, Miranda Kayton. She spent fifteen years specialising in cosmetic surgery before opening the doors to Pêche Medispa. Her passion is to provide cost-effective and beautiful results without going under the knife.
We understand how confronting it can be to attend treatments, sometimes without makeup on or having to reveal your intimate skin. That's why we approach things differently—you're never just a number to us, and we lead with kindness, offering a customised and private experience every time.
Boutique and accessible: Pêche Medispa Teneriffe & Palm Beach
Our mission was to make top-tier, non-surgical aesthetic and therapeutic treatments more readily available to men and women from the beginning. It's clear that our difference, our warm and personalised experience, has enabled us to expand to include three superb locations in Brisbane & Gold Coast.
Pêche Medispa Teneriffe
Our flagship medispa clinic in Teneriffe originally opened its doors in 2018, run by our founder, Miranda Kayton. She brought fifteen years of experience as a nurse in cosmetic surgery with her and a passion for providing results that enable her clients to feel more confident and comfortable in their skin.
Pêche Medispa Palm Beach
Now with a team of experienced clinicians and aestheticians, you'll also find Pêche serving the Gold Coast. With all locations offering our full range of the most effective non-surgical medispa treatments, reach out to book your free initial consultation at your local Pêche Medispa today.
Meet The Team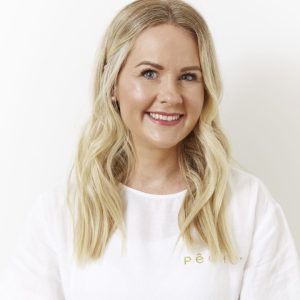 Miranda Kayton
Founder/CEO
Bachelor of Nursing Degree
Post Graduate Certificate in Critical Care Nursing
Plastic and Reconstructive Surgery Short Course
"Pêche has always been driven by my desire to give people beautiful results that improve their happiness without going under the knife.
Pêche is a boutique skin and body clinic specialising in body sculpting and skin tightening. We customise treatments to suit individual body and skin concerns. Everyone is different, and we come in all shapes and sizes; a treatment for one person may differ from another, even when we are treating the same body part. It's a personalised service."
Courtney Mills
Clinic Manager – Palm Beach
Certificate III & IV in Fitness
Pilates Instructor
"Each person that walks through our door is treated as an individual with their unique journey. Whether that's for body or skin treatments, no one treatment is ever the same.
We spend a lot of time and put a lot of effort into our consultations to ensure that we are on the same page with the clients. This way, we find out how we can best help them, whether we can help them at all. I pride myself in wholeheartedly providing my clients with a genuine interest in their skin and body goals in the clinic that continues into their homes with prescribed 'self-love'."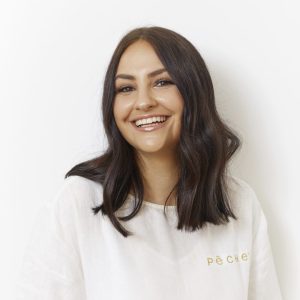 Taylah Bella
Clinic Manager – Teneriffe
Certificate in Cryolypolisis with Cryomed
Academy of Makeup – Certificate IV 
"When I first worked as a makeup artist, I wanted to make people feel confident by enhancing their natural beauty. I now apply those same principles to body-sculpting and skin treatments.
Pêche is more than a laser clinic. It is very personalised, and we have clients come back time and time again because we don't treat them like another number. We customise treatments to get great results and work with individual body and skin concerns."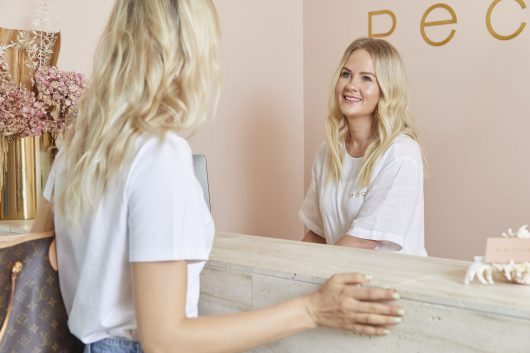 How can Pêche help you? Book your free consultation today.
The Pêche Medispa experience starts with a personalised touch. From a more youthful appearance, smoother skin or a tighter, more toned body, we can tailor a treatment plan that works for you. Start your journey and talk to us today.
BOOK A FREE CONSULTATION